VN posts 11.5% IT revenue growth
TUEsday - 26/09/2017 14:57
---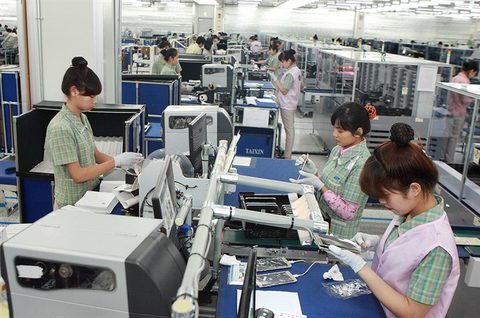 Viet Nam's revenue from information and technology in 2016 reached nearly US$68 billion, posting an 11.49 per cent year-on-year increase.
The figures were announced at a ceremony held in the city on Tuesday on the publication of Viet Nam's 2016 White Book on Information and Communication Technologies (ICT). The annual publication, issued for the past eight years, provides official information and data on the ICT sector. This year's edition provided data on 12 areas, including IT application, information safety, telecommunications and broadcasting.
Speaking at the release ceremony, Minister of Information and Communications Truong Minh Tuan said the White Book would help not only Vietnamese people but foreign investors gain an overview of Viet Nam's ICT situation, spurring investment.
"With the fast steps in ICT development in the past few years, Viet Nam has had a high position in the world's map of IT services and software outsourcing," Tuan said. "Last year, it took the first position in the economic index using mobile applications among six ASEAN countries."
The book also said in the 2015-16 period, 14 new policies were promulgated, contributing to the development of a complete legal framework on ICT. The Law on Information Security was also promulgated on November 19th 2015.
In the telecom sector, after the pilot period, the three big telecom providers of Viettel, VinaPhone and MobiFone were officially granted licence to establish and provide fourth generation (4G) LTE services in October 2016. The country's telecom market therefore has been seen positive competition.
Last year, the country had 79 telecom companies with total revenue of VND136.5 trillion ($6.16 billion), representing a 1.6 per cent increase from the previous year.
The total number of operating mobile phone subscribers in 2016 was around 128 million, including 36.2 million of broadband subscribers.
IT has become one of economic sectors with a rapid and sustainable growth rate, bringing high revenue and export value and contributing to the country's GDP.
Revenue from the hardware industry was $58.8 billion, software $3 billion, digital content $739 million and IC services $5 billion.
Viet Nam earned $60.8 billion from exports of IT products last year, contributing VND34.3 trillion to the State budget.
In the area of telecommunications, Viettel is the largest company with 46.7 per cent of market share of 2G and 3G mobilephone subscribers. It was followed by MobiFone with 26.1 per cent, VinaPhone 22.2 per cent, Vietnammobile 2.9 per cent and Gtel 2.1 per cent.
The White Book will be published both in Vietnamese and English versions in October. — VNS
---
Newer articles
Older articles
Statistics
Today 161
This month 2,427
Total 861,165